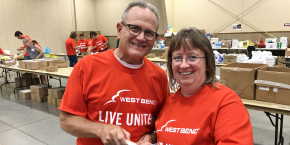 United Way of Washington County kicked off their annual fundraising campaign Thursday by uniting more than 400 volunteers from 40 local businesses, schools, and nonprofit organizations.
The volunteers assembled bags of health and hygiene supplies for 2,500 local residents in need. The event, called United for a Fresh Start, was held at Washington County Fair Park.
"Whether it's mental illness, job loss, or abuse, we know there are many circumstances that can lead to household and financial instability," said Kristin Brandner, executive director of United Way of Washington County. "We hope these Personal Care Kits will help people get a fresh start so they can get back on their feet."
During the event, teams of volunteers worked in assembly lines to fill tote bags with 15 items, including shampoo, soap, and toothbrushes. The kits were completed with notes of encouragement signed by each volunteer.
"Washington County is a really special place to live and work, and this event is an example of that," said Kevin Steiner, president and CEO of West Bend Mutual Insurance Company, and United Way of Washington County's 2017 Campaign Chair. "Community is more than just a group of people living in one area. It's coming together to improve people's lives. And that's what people in Washington County do.'"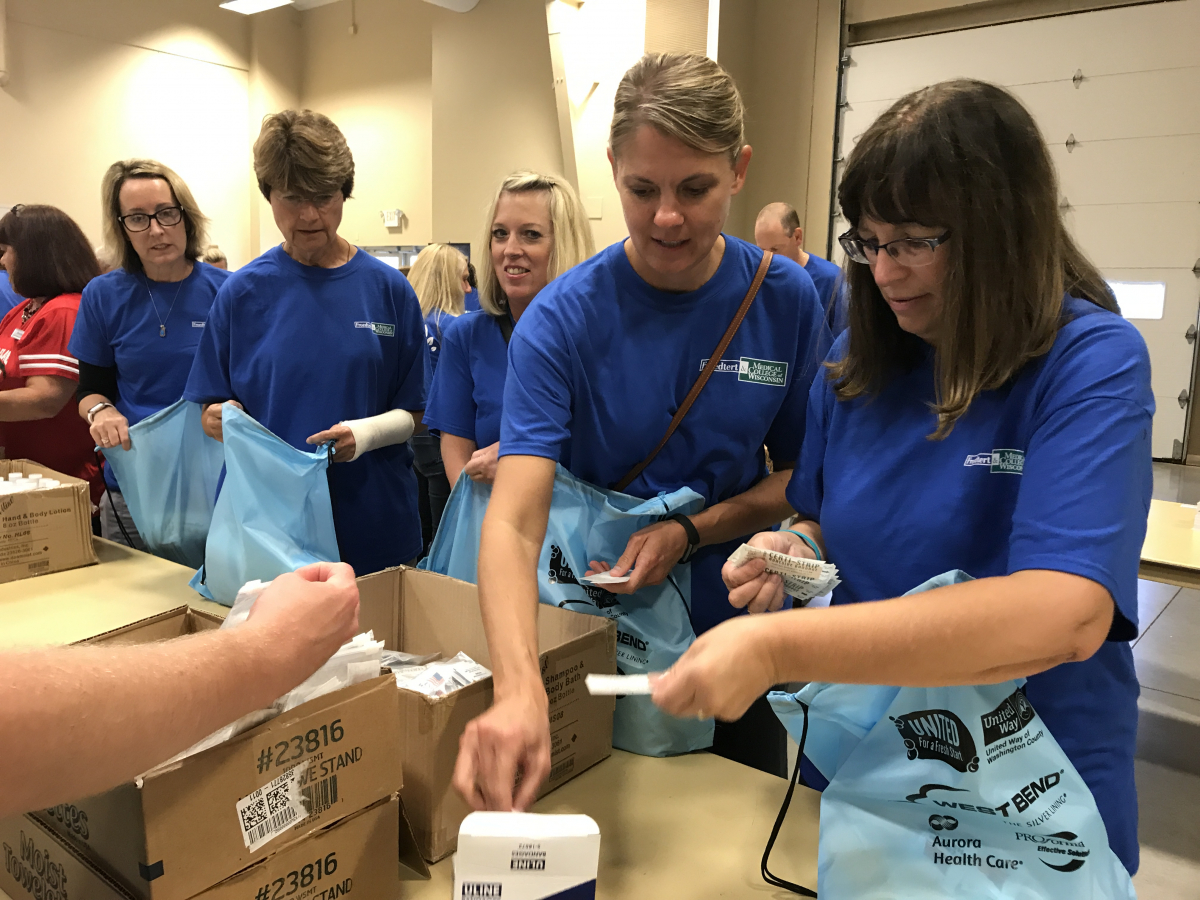 The Personal Care Kits will be distributed through local churches, schools, homeless shelters, food pantries, and nonprofit organizations in Washington County.
Before they started the kit assembly, volunteers participated in an interactive simulation called Walk In My Shoes. Using United Way's new website, WalkWC.org, volunteers navigated a month in the life of a character struggling with financial instability. Throughout the simulation, volunteers were confronted with real-life situations and hard choices that impacted their budget.
"Walk In My Shoes is a powerful tool that illustrates the difficulties that many of our neighbors face on a daily basis," said Sarah Malchow, Director of Community Impact. "Financial hardships can easily lead to health issues, relationship conflicts, poor school performance, and household instability. United Way provides resources that empower people to overcome these obstacles, which creates a better community for all."
The event was sponsored by West Bend Mutual Insurance Company, Aurora Health Care, and Proforma Effective Solutions.
During their annual fundraising campaign, United Way of Washington County encourages the community to Give, Advocate, and Volunteer. The funds raised benefit education, financial stability, and health programs at 18 local nonprofit agencies.